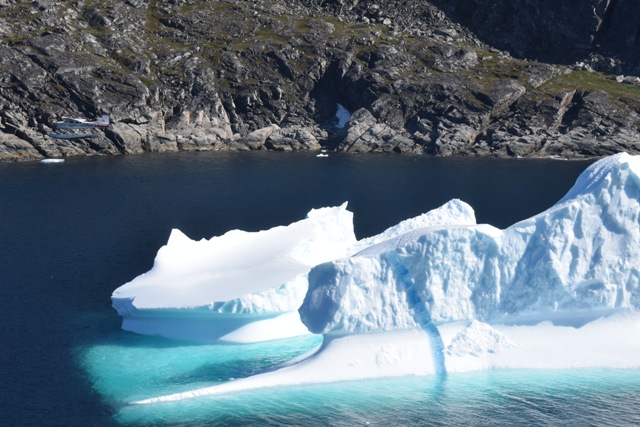 May 23, 2017
Written by Alain Lagacé
Nothing captures the magic of Arctic Quebec and Labrador better than the adventure of flying across the vast wilderness in a float plane.
I've made numerous flights to Arctic Quebec and Labrador that a typical traveler could easily duplicate.
From the southern part of Quebec, I flew north to the remote native village of Schefferville to refuel and then to Rapid lake Lodge, which is located near many scenic tourist attractions.
My ultimate flight from Rapid Lake to Land's End
The scenic flight from Rapid Lake to Land's End is a panorama of constant changing contrast. The Quebec and Labrador Peninsula is a 300-kilometre long peninsula and it's one of the world's most beautiful coastline.
Against a backdrop of craggy mountains, sheer-walled fjords, plummeting waterfalls and colorful icebergs, the region is a strong magnet for tourists.
Flying low over the Baudan reversing fall, I experience the stunning beauty and raw power of the world highest tide. A few minutes later I circle a 300-foot tall castle-like iceberg off the Ungava coast, which had many wonderful features, including a perfect arched gate and some spikes on top. On my way to Lans's End I spotted many polar bears, a few whales and thousands of seals at sea. After one hour of flying I finally reached the 60th parallel at Lans's End, landed on Killiniq Island at walked on the surreal lunar landscape. Killiniq is a strange island of volcanic rock eroded by the glaciation and the home of many polar bears.
The ability to drop out of the sky into a wilderness region where no man has set foot before is exhilarating. With so much to explore and a float plane, you can create your own wonderful experience. If you need help to plan your trip, you know where to find me.
View our packages "bush flying"
Need help planning your next trip, or you have questions about existing reservation? Contact your travel specialist:
Canada / USA, Alain Lagacé: info@rapidlake.com or (418) 949 2549
Europe, François Desvoys: fdesvoys@rapidlake.com or +33 6 10 31 66 99