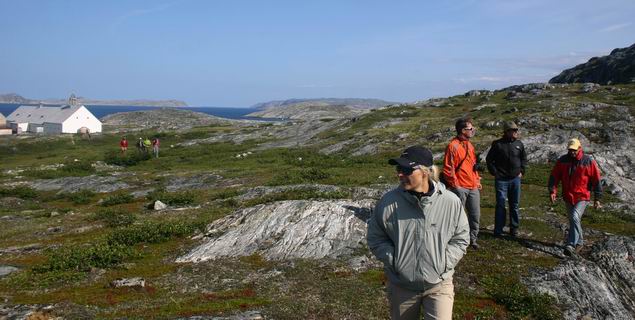 It has been an amazing time in Arctic Quebec and Labrador this summer, lots of fun at fishing the East Ungava rivers and sightseeing the natural wonders in the Torngat Mountain National Park.
RESERVE NOW YOUR STAY FOR NEXT YEAR AT THE CURRENT YEAR PRICE…PLUS TAKE ADVANTAGE OF THE "EARLY BOOKING DISCOUNT".
Booking for 2015 is already underway with a good number of reservations. If you have specific dates in mind, please place your request now to avoid disappointment.
Fly Fishing Arctic char
The east coast of Ungava Bay is a fishing paradise for Canada's arctic char. From the ice breakup, it is possible to fly-fish arctic char that easily beat the size of many salmon. An expert fly fishing guide will be at your side at all times to help you discover the secrets to catching these feisty salmonidae.
The best way to watch the largest land carnivore on the planet, the "polar bear," is by traveling the wild coasts of Ungava and Labrador by floatplane. Stop in their hunting grounds and watch them from a distance. Our "Polar Bear and Iceberg Photo Safari" is the perfect trip for you to photograph the formidable great white bear.
Air Safari in the Torngat Mountain Park
Do you dream about discovering the Great Canadian North and having an once-in-a-lifetime experience? In July, book your seat on the famous Rapid Lake Lodge air safaris. During your flight, fly over the southern eco-zone of the Arctic Cordillera, the Labrador Sea and the east coast of Ungava. Just follow our guide plane with our naturalist interpreter and discover the vastness of these glacier landscapes, which are some of the most spectacular in North America. This trip is also offered to the aviators.
Camp in the Heart of the Arctic Tundra
Imagine yourself, alone, in the heart of the arctic tundra. The immense peninsula of Quebec and Labrador is the perfect spot for wilderness camping and to discover the exotic Canadian Arctic. Set off on an adventure and pitch your tent on the edge of a wild, unnamed lake. Discover the magnificent landscape, dotted with fjords, mountains and towering waterfalls.
For further information please contact Alain info@rapidlake.com